COVID Response: Eliminating Public Touch Interfaces
by GenUI
We work with leading technology companies to achieve their goals in software engineering and product UX leadership. We believe the future will be built together.
A customer adjusts her mask and looks nervously at a fingerprint-smudged touchscreen instead of the menu it displays. While excited that her favorite restaurant reopened, she doesn't want to risk contracting a virus and leaves.
It's a miss for both the customer and business.
Now imagine this customer's phone duplicating the touchscreen's exact menu UI by scanning a QR code. She can support the restaurant through her phone.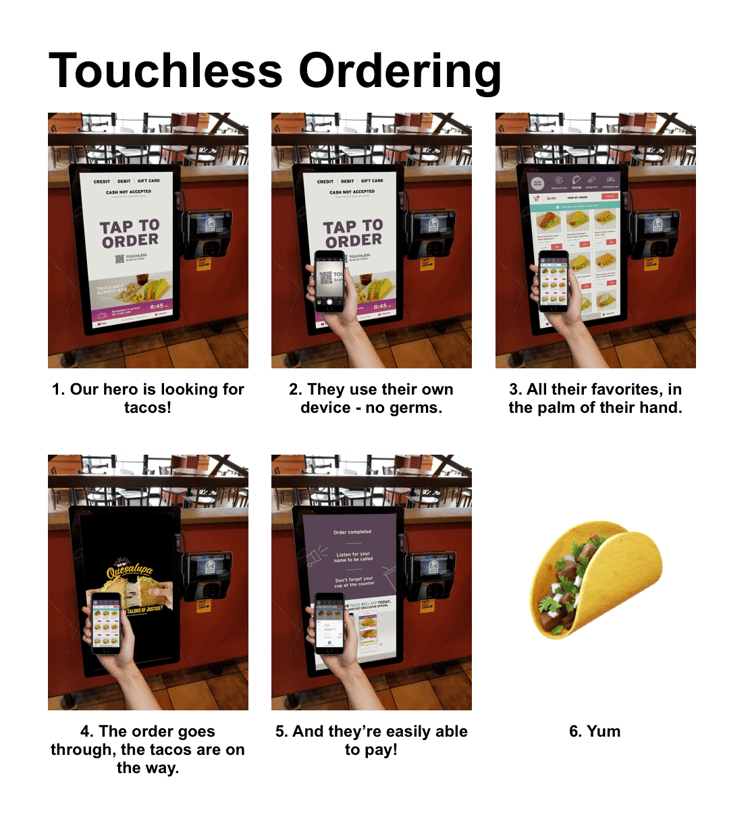 What's the difference?
Touchless Technology.
The demand for touchless technology increased during this pandemic. Given a choice between using a public interface or their phone, we believe user behavior has changed to prefer the latter. As Kent State University epidemiologist Dr. Tara Smith tells The Independent: "[Public touchscreens are] a great place for viruses and bacteria to be deposited by infected individuals and be picked up by healthy ones, spreading the germ to new people."
Digital twinning is the creation of any physical entity's exact digital duplicate. It's a promising aspect of touchless technology -- a sector predicted for massive growth over the next decade. We think digital twinning with touchless tech can drive an innovation leap in user experience by replicating shared UI on personal devices.
Businesses utilizing these touchscreens can innovate by putting a digital twin in each customer's hands.
Digital Twinning as an MVP
A web-app based MVP for enabling digital twinning would be cheaper than a native app and nimble enough to iterate in near real-time based on user data. It could also help test the viability of our hypothesis that customers will default to their own devices in the future.
So what do you think? Will consumers be reluctant to touch shared devices? Is digital twinning a promising approach for the Age of the Coronapocene?
How will the answers to these questions affect your business?
While we're in a challenging time, innovation occurs at the intersection with hardship; tomorrow-ready growth starts with a collaborative conversation.