At a glance
Upspace (formally Upswing Fitness) is changing the way fitness coaches interact with their clients and how their clients interact with one another. Their social platform allows trainers to create their own online community—an Upspace—where users can follow shared content, chat with each other, and find new ways to stay fit.
A little over a year ago, however, the app was still in early stages. To realize their vision, the Upspace team turned to GenUI and partnered with them through every step of the app build process, from conducting user research to the creation of a robust MVP. Today, trainers are rapidly adopting the solution and contributing to the overall product experience and scope.
Trainers helping trainers
Upspace founder and CEO Chris Putsch is a personal trainer himself. When the COVID-19 pandemic struck, he suddenly found himself interacting with his clients entirely online. In November of 2020, he came up with the idea for an application that would better allow him and others in the wellness field to engage with their clients remotely.
He told his friend and fellow client Shaun Ziegler about the idea. He saw the potential immediately and came onboard, ready to create a digital solution that would meet a real need for trainers and their clients.
However, neither had any software engineering experience. In June of 2021, they hired Nico Westerdale as CTO and set to work on the technical side of the app. Nico had worked with GenUI CEO Jason Thane previously and knew of the firm's excellent reputation, so he suggested a partnership.
"We evaluated a few different firms and it became apparent that GenUI was the best choice for us," says Putsch. Westerdale's prior relationship was a factor. So were GenUI's experience with Upspace's tech stack including React Native, Node.js, and Firebase.
From the start, the firm's clear communication and organized approach to the product development process gave Upspace confidence that they had made the right choice. "Immediately when we started conversations with GenUI, it was quick, clear, and transparent about what would be done, how, and the scope of work," says Ziegler. "They are very honest about how things are going to be done, from the first conversation, and they have the systems and processes in place to make it a reality. The instant response, the transparency, everything was there in the beginning, and it continued throughout the process."
Clarifying the vision
Westerdale recognized that they were a long way from the finish line and needed to rethink the approach. He developed a basic architecture and requirements document in collaboration with the founders, and then turned to GenUI to validate the ideas and plot a course for the minimum viable product (MVP).
A critical step in this process was gathering feedback from coaches and trainers. During these conversations, one set of features really resonated with this group—the social aspects of the platform. These included subscription options, activity feeds, group chat, and leaderboards.
At the time, Upspace's feature set was much broader than that. The platform essentially acted as a CRM for trainers, with options for scheduling, client emailing, and so on, in addition to the social capabilities. However, these features didn't get much traction with trainers. "The other tools were 'OK.' We found most people tried out the tools and went back to Google Sheets—the value just wasn't there," says Chris.
Creating connections between coaches and clients
With this feedback in hand, the Upspace team sat down with Ian Lyman, Director of Product at GenUI. And he made a surprising suggestion—why not double down on the social and community-focused parts of the app and strip everything else out? Plenty of fitness apps out there already covered the logistical areas. The community element was something entirely new.
This was a revelation for Upspace. "That was a pivotal moment that we will look back on five years from now as huge. It set the tone for the future," says Shaun. In the current fitness market, such a focus made a lot of sense. "Peloton proved that the leaderboard model is something that people will come back to. They love to compete, friend each other, and build community," says Chris.
With an exciting new direction to follow, the teams at GenUI and Upspace continued to build out the application. Now, the community aspects were top priority. The updated Upspace platform would allow coaches and trainers to create their own personal online community—an Upspace—where they could offer both premium and free workout content. Users could browse the site for free, subscribe to trainers they like, and connect with other fitness fans.
Delivering beyond the beta
Because of the highly visual nature of both the platform and coaching in general, video was a critical component to get right. In consultation with GenUI, Upspace discovered it could use a third-party solution called Cloudinary to power the video aspects of the platform, which accelerated time to market significantly.
Upspace knew that the most important success factor was getting feedback from coaches and users. They wanted a solid MVP to put in front of users, and GenUI delivered. "The term 'MVP' doesn't really do justice to what we got from GenUI—it looked like a finished product," says Putsch. "The platform's feature set was robust, including video posts, social features, a post-editing studio, messaging, chat rooms, payment flows, subscriptions, programs, profile creation, promotional challenges, and even a gamified leaderboard."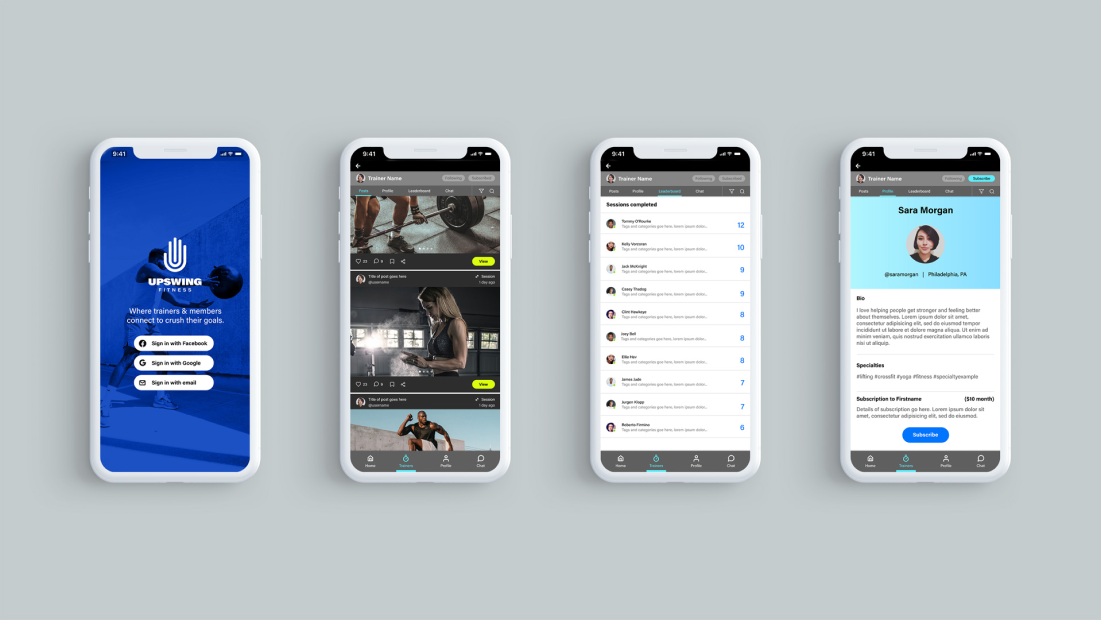 The power of true collaboration
The close collaboration and transparent communication between the teams also paid off. The founders and CTO gave their full attention to the development process whenever needed, enabling GenUI to use its proven methodologies and technical expertise to the fullest. In addition, the working relationship between the two teams was marked by clear, frequent, and friendly communication, which made the entire build go much more smoothly.
"We were shocked by the accuracy of GenUI's delivery estimates," says Ziegler. "Most people said we should add at least three months to the delivery timeline, and based on our experience with software development companies in the past, we figured that was conservative. GenUI delivered everything we asked for and then some, with time to spare.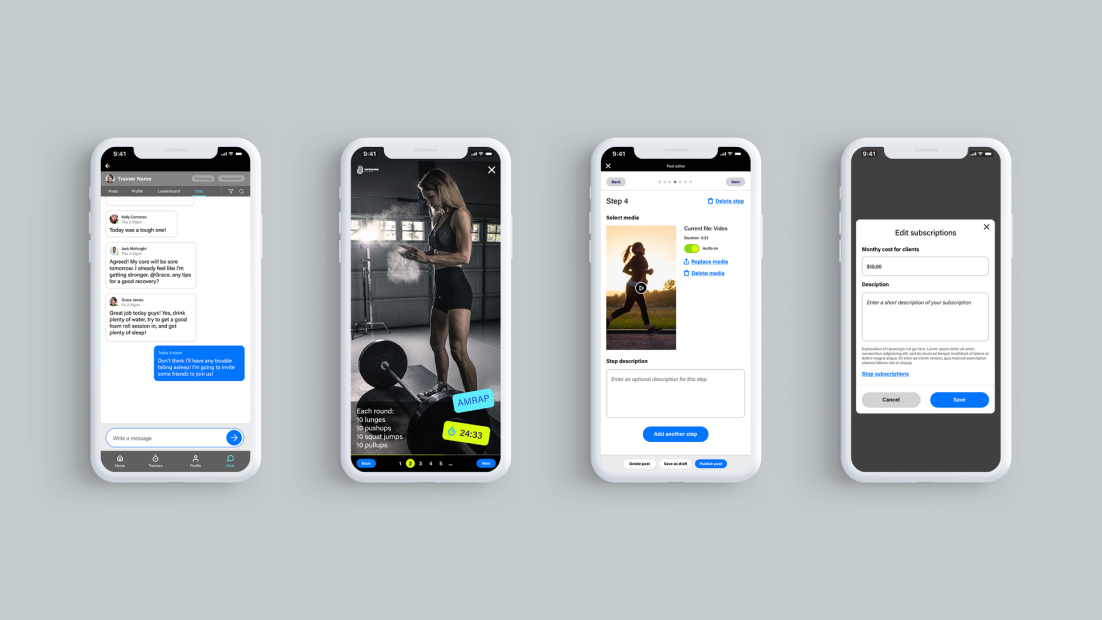 Looking to the future
Currently, Upspace is in the midst of beta testing and a soft launch with 100 coaches. They plan to launch to the public within a few weeks, and have just hired their first in-house engineer.
Passing the torch
During the development of the initial product, Upspace was hiring its own engineering team. The company relied on GenUI to pass along its thorough documentation and expertise to the newly hired developers, a process that was handled seamlessly.
The two teams continue to be in contact via Slack and both are open to continuing their partnership. As users adopt the platform and share their thoughts, the app will evolve, encompassing new features and technical capabilities.
So far, feedback on the app has been hugely positive. "Members and coaches have given us very encouraging feedback," says Ziegler. "In some cases they like it more than we do!"
The team has big plans for Upspace, hoping to foster meaningful communities around health and wellness. "Our mission is to make fitness and wellness as intuitive as sleeping—it's something you do every day," says Putsch. "We believe by connecting people through wellness we can accomplish that.
Can we help you apply these ideas on your project? Send us a message! You'll get to talk with our awesome delivery team on your very first call.