At A Glance
USAFacts was founded in 2017 as a non-profit organization offering a non-partisan portrait of the US population, government's finances, and government's impact on society. Relying exclusively on publicly available government data sources, USAFacts sought to design a public-facing website to make the information easy to access and consume. To do so, they turned to the design team at Artefact and the engineering team at GenUI.
About USAFacts
The US government serves 321 million people across 90,000 jurisdictions, spending more than $5 trillion a year. What happens with that money? Where does it go? Who does it serve? And what outcomes does it achieve?
These are the questions former Microsoft CEO Steve Ballmer seeks to answer through his non-partisan, not-for-profit civic data initiative known as USAFacts. The organization has no political agenda or commercial motive. It makes no judgments nor prescribes specific policies. Pulling data from more than 130 government statistical databases and reports such as the Census Bureau and the Office of Management and Budget, the organization is aimed at making government data (tax revenues, expenditures, and outcomes) more transparent, specifically by producing reports similar to those produced annually by America's public corporations – a sort-of Form 10-K for the government.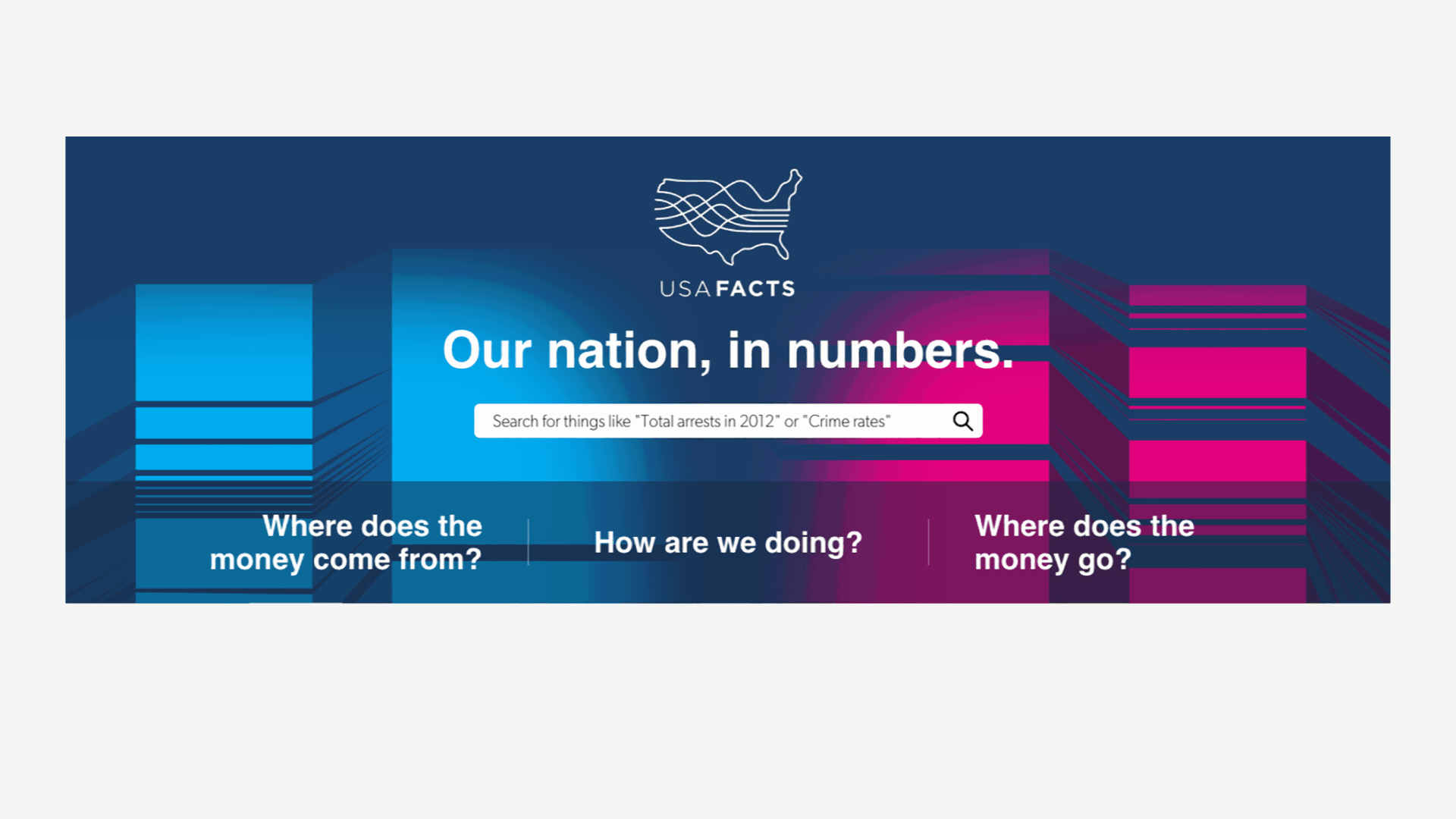 Making Data For The People
From the start, the teams at Artefact and GenUI knew they had two main challenges on their hands:
How to organize 30 years of complex, multi-layered data from more than 70 local, state, and federal government agencies into a well-designed, centralized hub.
How to give people a clear, digestible way to know where the government's money comes from -- and where it goes.
First, the team started with an intuitive site navigation. Upon that they built a site using data visualization based on Microsoft Azure and SQL Server that helps make the data not just accessible, but comprehensible. A REST API is built in .NET for the backend, while the frontend is built in React and Victory, with Lunr JavaScript search technology. PowerBI allows people to mix and match their own data sets and visualizations. Kubernetes handles the scale and volume of traffic to the site.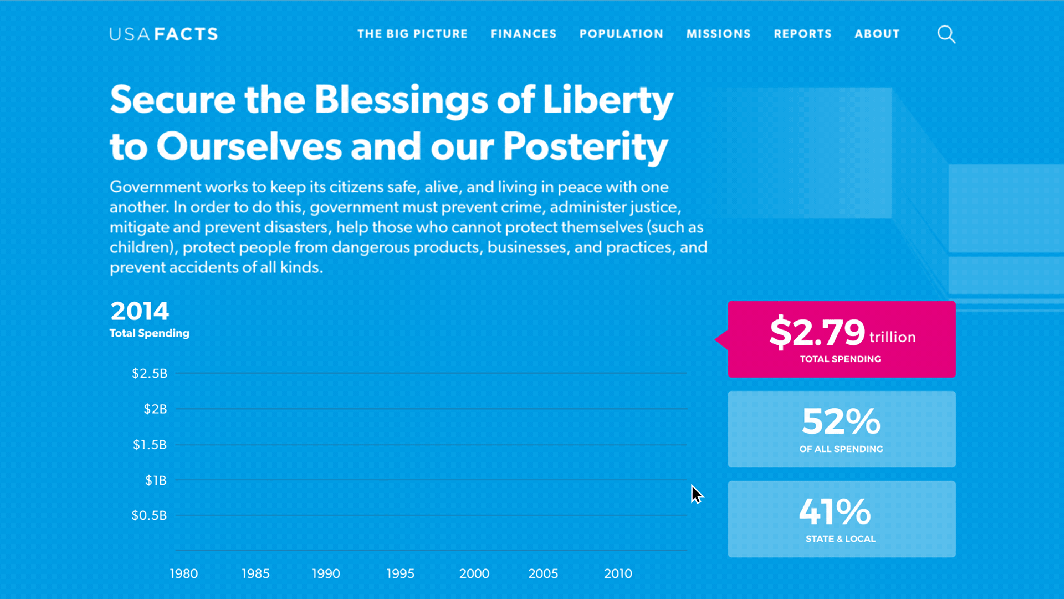 "We put the data there in an orchestrated way so people can find it and create their own analysis."

Steve Ballmer, Co-Founder, Ballmer Group
A Truly Customizable User Experience
The framework organizes the information around the central missions of government:
Establishing justice
Ensuring domestic tranquility
Providing for the common defense
Promoting the general welfare
Securing the blessings of liberty to ourselves and our posterity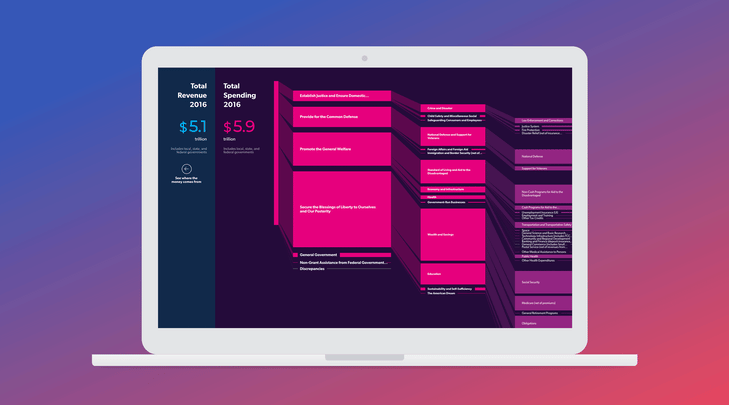 Visitors to the site start exploring the data at the highest level possible: overall revenue and spending. From there, they can dive deeper into more specific subject areas, like education or defense spending. Within these categories, users can dial in on the data from different perspectives and through different filters, drawing their own conclusions and forming a deeper understanding of government impact.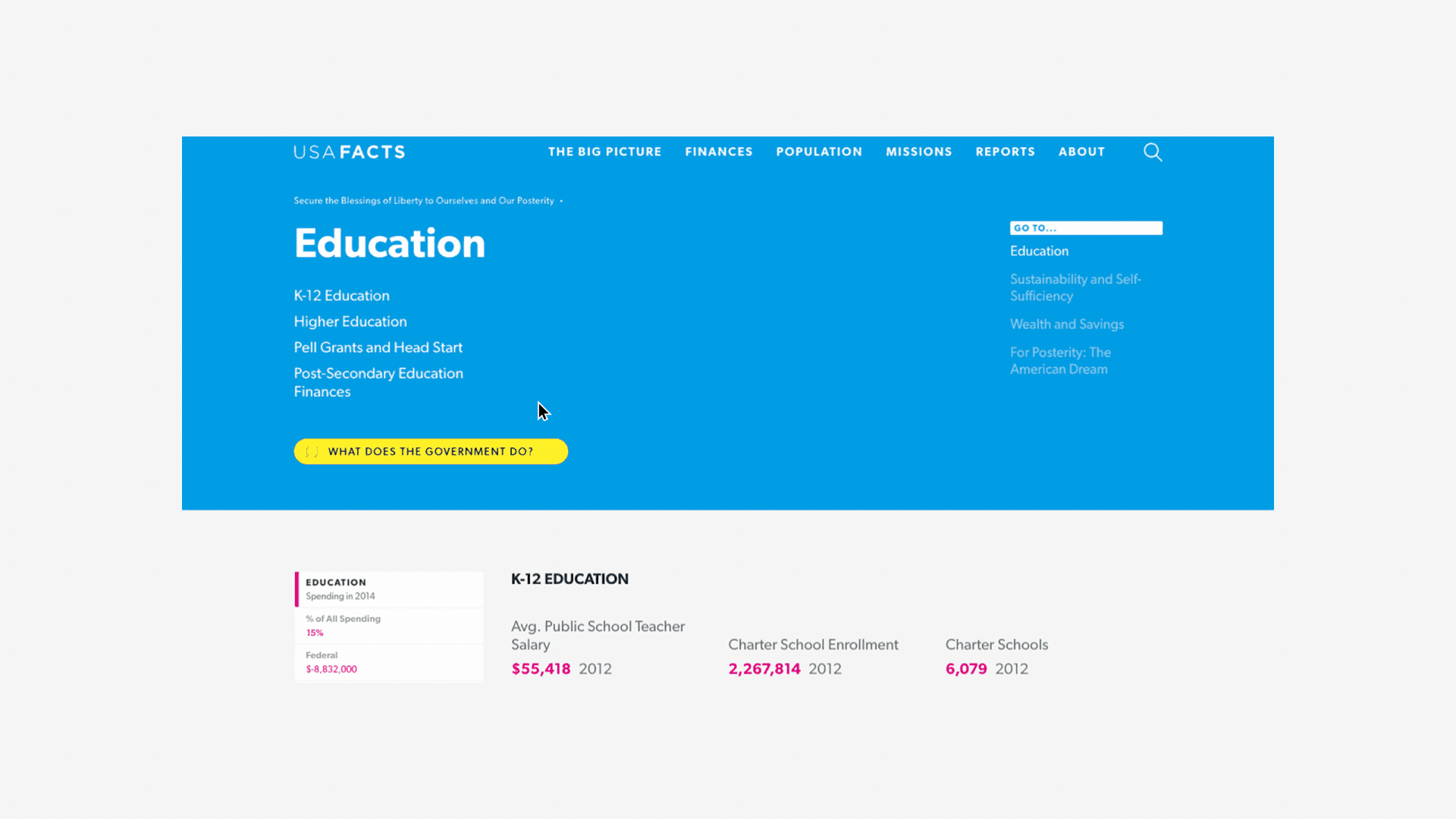 "USAFacts looks nothing like its bureaucratic counterparts or startups like OpenGov, which also tries to organize and parse government data. Its typeface is pleasingly legible. The site navigation is intuitive. But most importantly, Artefact [and GenUI] have made dry facts and figures actually feel engaging. "

Wired Magazine, 2017
More than 2.5 million people visited the USAFacts site within the first 24 hours. Since that time, USAFacts has made some incredible updates to the experience and their reach:
Can we help you apply these ideas on your project? Send us a message! You'll get to talk with our awesome delivery team on your very first call.