At a Glance
Building on Microsoft 365 and Teams, Oxzeon built a solution to map collaboration patterns inside of organizations, giving leaders insights and data to drive digital transformation and a productive culture of hybrid work.
Discovering insights to make workplace transformation a reality
Microsoft workplace innovation has long enabled transformative improvements in how people work. When the pandemic required millions of people to work from home, Microsoft 365 and Microsoft Teams were there, helping enable anywhere productivity and collaboration.
Today, businesses are taking stock of their investments in technology, evaluating how they will enable hybrid work going forward and drive even greater levels of ROI from Microsoft solutions. New ways of working require new approaches to building a strong culture, enabling productivity, and optimizing the employee experience.
The data necessary to enable this kind of transformation exists inside of Microsoft 365 and Teams–data about how people work, collaborate, and communicate. After all, remote and hybrid work generate more data than ever: social posts, emails, instant messages, calendars, meetings, and more.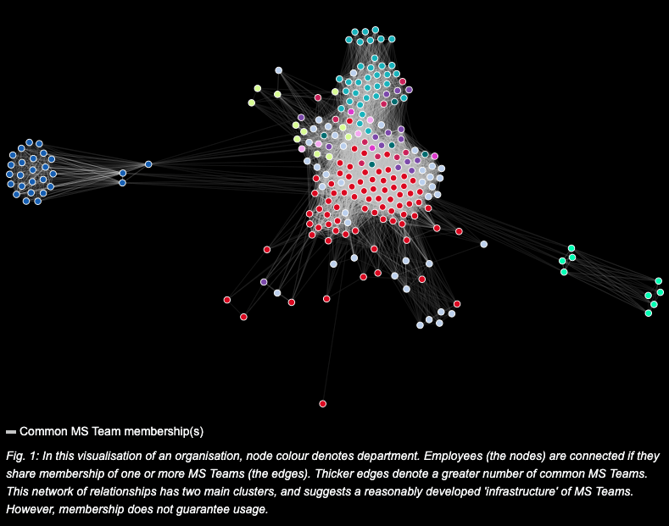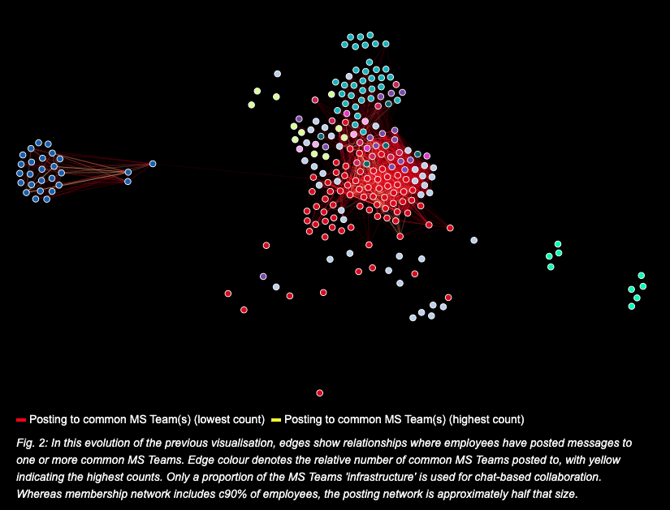 However, collecting and making use of data across many complex services is no simple feat–especially taking privacy standards into account. This is the challenge that Oxzeon set out to solve. They did so by innovating on top of the robust tools that are already a part of the Microsoft ecosystem–with a little help from GenUI to overcome some of the thornier technical challenges. Today, Oxzeon empowers clients to unlock their data and mine insights that illuminate and optimize how work gets done.
Unlocking the power of data with PowerShell
The Oxzeon solution captures data using Microsoft PowerShell. This rich scripting language was designed by Microsoft specifically to work with its technology ecosystem. The flexibility of PowerShell enabled Oxzeon to quickly develop powerful data ingestion capabilities–and also allows Oxzeon to keep all processes as transparent and human-readable as possible so they can be understood and explained easily.
Another benefit of using PowerShell is that it interfaces natively with Microsoft 365 data stores. Microsoft offers APIs that enable PowerShell to access backend capabilities and respond to the queries that Oxzeon uses to get the right data efficiently and without disruption.
Working with software product innovation firm GenUI, Oxzeon was able to quickly optimize their PowerShell code and create an automated testing system to support continuous improvement. GenUI also helped Oxzeon improve error text throughout the application, making it easier for clients to run and troubleshoot the tool by themselves. This avoids the need for Oxzeon to gain administrative access to sensitive employee data.
Making work matter, wherever it happens
By building on the powerful native capabilities of the Microsoft collaboration ecosystem, Oxzeon helps leaders drive and optimize the adoption of transformative digital tools, whether through targeted training campaigns or identifying power users who can become effective ambassadors for hybrid work best practices.
With the ability to view organization-wide networks or drill down to individual departments and teams, Oxzeon supports a strategic approach to the digital transformation of work. "We provide you with a map of how your organization is plumbed together in terms of Microsoft infrastructure," says Richardson. "Then, we add a heat map that shows you where collaboration is actually happening and where people are needing more help."
Building on its work with GenUI, Oxzeon plans to continue optimizing its offering for use both by enterprises and the consulting firms specializing in change management. By illuminating how, when, and where people collaborate, Oxzeon helps companies adopt Microsoft 365 and Teams faster, with greater confidence, and deliver an outstanding employee experience.
"I want to say how great it's been to see some of the quality improvements / enhancements that weren't in the ReqSpec, and I would never have thought to ask for!"

Alan Richardson, Head of Product at Oxzeon
Can we help you apply these ideas on your project? Send us a message! You'll get to talk with our awesome delivery team on your very first call.