At a Glance
Growing numbers of hotels and casinos are deploying panic alarm systems to protect employees from assault and harassment. React Mobile is leading the hospitality safety industry with solutions that are easy to deploy and manage, enabling hotels of all sizes to keep their employees safe. As part of this commitment, the company recently undertook a major modernization initiative, reimagining its technology stack, user experience, and apps to meet the needs of a changing industry.
GenUI supported and collaborated with React Mobile CTO, Riley Eller, to realize this ambitious vision in only eight months. The initiative includes a complete rewrite of the application code, a reimagined user experience, integrated apps, and high reliability and low latency thanks to the Elixir programming language. The result was a highly stable, user-friendly system positioned to make hospitality a safer place to work.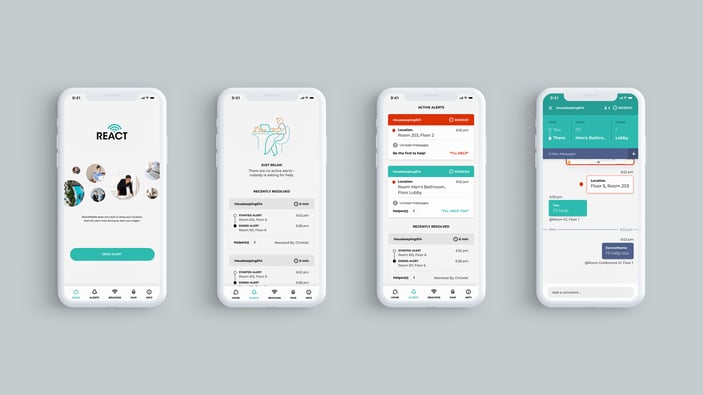 Saving lives with real-time response
According to a recent study by the Chicago-based advocacy group Hands Off Pants On, 58% of hotel workers and 78% of casino workers in the Chicago area alone report being victims of assault or harassment by guests. Many hotels are installing panic alarm systems to help protect employees from such dangers. One innovator in this space is React Mobile, founded and based in Seattle, WA Which uses a system of onsite beacons (or integrated hardware/software) so hotel employees could raise the alarm with the tap of a button.
The initial solution targeted hospitality enterprises and required professional services to install and manage. React Mobile envisioned a self-service future for the app so it could scale faster and create a safer workplace for more people. The company was methodically working to address these challenges when an announcement by the American Hotel and Lodging Association (AHLA), the largest hotel association in the U.S., added urgency. Under the AHLA 5-Star Promise, its members committed to significantly improving security in late 2021. React Mobile recognized the massive opportunity created by this initiative—and understood the challenge of supporting thousands of hoteliers. With only eight months until the deadline, the clock was ticking.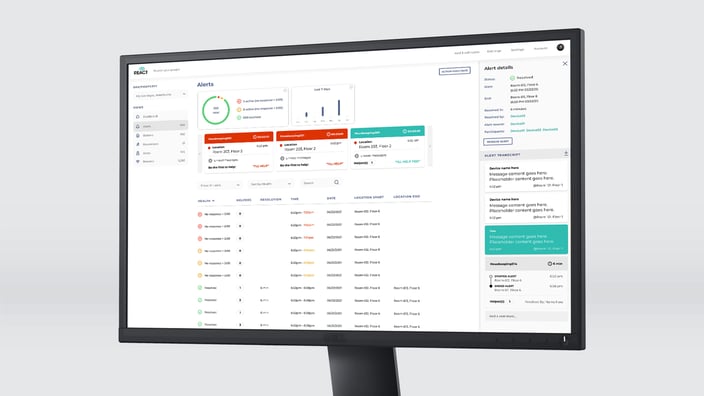 Mining the past to imagine a better future
The first step was bringing noted technology visionary, Riley Eller, onboard as CTO. He imagined a mission-centered product transformation that could scale to protect more people while being easy and cost-effective for hotels to implement and manage. "To improve scalability and manageability, we wanted to get rid of the technology debt that had built up over the years and simplify the architecture," he says. "Our goal was to make our solution more accessible and affordable for a wider range of hotels so we can help protect more people."
He started with an in-depth review of customer feedback, which fed into a feature prioritization exercise involving the whole React Mobile team. Ultimately, this process surfaced an opportunity for the solution to provide functionality far beyond a basic "panic button," such as analytics to help hotels optimize security plans and training to prepare employees to respond to safety incidents.
With the roadmap sketched out. Eller created a notional product architecture. Taking a step back, he realized that building the right team would take at least a year. He decided to call upon a readymade team of product innovation experts to help accelerate the timeline.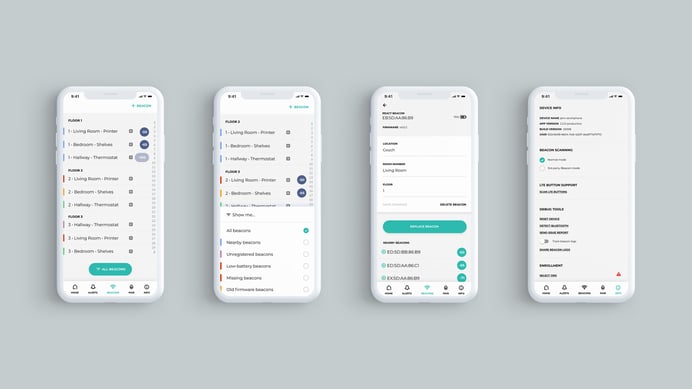 Initiating a powerful partnership
Eller knew and worked with members of the GenUI team for years before this effort and was confident they had the skills and experience to make the transformation happen. GenUI's methodical approach to product innovation, deep commitment to user-centered design, and creative engineering mindset would all prove to be essential assets for this ambitious project. For its part, GenUI was excited to work on a solution with the potential to improve countless lives in a tangible way.
In February of 2021, GenUI's Jeni Mattson, Chief of Product, and Shane Brinkman-Davis Delamore, Chief Technology Officer, worked closely with Eller to push the architecture design-forward based on user interviews and experience design insights. Following an intensive code and architecture audit, GenUI was ready to start building.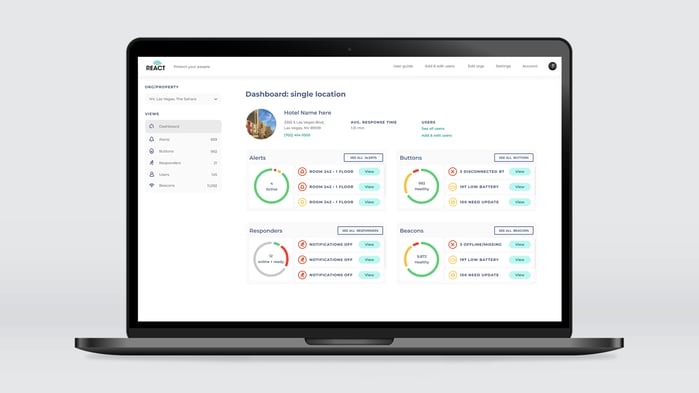 Gaining instant expertise
The preparation paid off. Once development work commenced, GenUI was able to deliver results almost immediately. By starting the build of a new Android app, the project grew to encompass a vast range of functionality. "GenUI brought a panoply of skills to the table, including web and mobile development, UX and UI, DevOps, firmware, system architecture, API design, machine learning, and the list goes on," says Eller. "I'd be lucky to find even one person who could do a fraction of those things well–and even luckier if I actually liked working with them. With GenUI, I'm paying half what I would to hire for all those skills, and they're all great collaborators."
One of the most specialized skills was also one of the most valuable. To maximize scalability and reliability, Eller went with GenUI's recommendation to use Elixir, a language purpose-built to support high levels of concurrency. "The fact that GenUI knows how to program in Elixir is pretty unique," he notes. "It was a great choice because it makes ultra-high reliability for our software backend almost automatic. Achieving that level of concurrency using traditional languages and approaches would have taken four or five people and GenUI did it with one, so that was really, really valuable."
Powering through with true collaboration
With the short timeline and long list of projects, the team couldn't afford delays, making effective communication critical. "With GenUI, I always knew I could expect steady, reliable progress against our goals, accompanied by clear messaging that we could to investors and board members to explain what's going on," recalls Eller. "Executives, management, and contributors all had ways to plug into the process and improve the product as it evolved."
Relying on a proven approach to true collaboration enabled rapid progress. "Experts at GenUI are used to demonstrating their own work," he continues. "It also helps a lot to have the architect, the designer and the programmers all in the same conversation." One-on-one and small-group interactions allowed the team to make quick fixes in real-time to accelerate the project.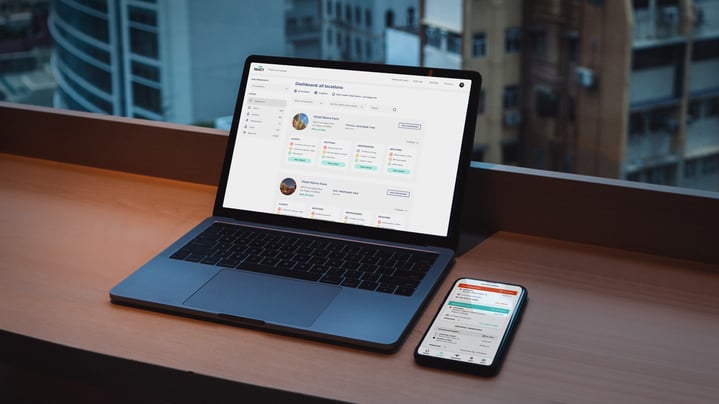 "The collaboration with GenUI has been remarkably transformative for React Mobile."

Riley Eller, React Mobile CTO
Evolving into a best-in-class solution
After a fast-paced eight months, React Mobile unveiled the results of its work with GenUI to an enthusiastic response. Investors, executives, and users were impressed by the clean user interface, simplified experience, real-time views, high reliability, and low latency. Management and support costs have fallen, enabling the company to redirect investment to building the next generation of its hardware platform.
The reimagined solution can now adapt to serve the needs of midsize hotels that often lack dedicated security teams–the largest market for React Mobile in terms of the number of rooms. The new responder functionality in React Mobile enables these clients to respond more effectively by tracking the location of a user in danger even as they move to escape. Other employees can pick up a device, switch to responder mode, and help the distressed individual without automatically calling law enforcement.
The team also achieved the goal of making the solution easier and less expensive to manage. "We moved many operational activities into the app so customers can handle them on their own, instead of requiring us to fly a field service personnel to their location," says Eller. Any property with smart device beacons installed can begin using the system immediately, without building out a network or installing new wiring.
By the Summer of 2021, React Mobile will be serving more than 23,000 hotels to support them in meeting their workplace safety commitments. The company is ready to help hotels deliver on the AHLA 5-Star Promise before the end of 2022. "We're one hundred percent redone thanks to GenUI in less than a year," says Eller. "It's a whole fresh start, and there's no way we could have gotten here on our own."
Can we help you apply these ideas on your project? Send us a message! You'll get to talk with our awesome delivery team on your very first call.